Staff Spotlight: Corey Johnson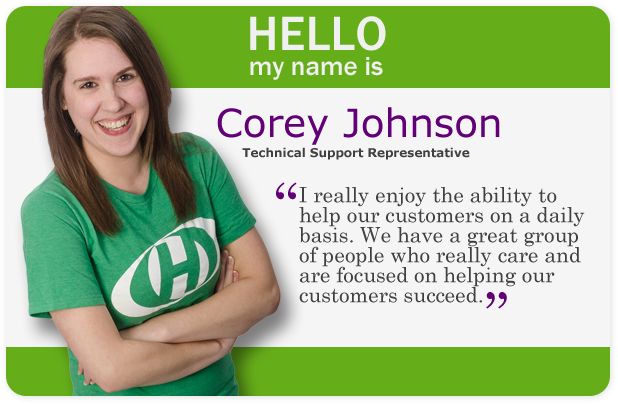 At HostMySite, we have an amazingly talented staff that works hard around the clock to make sure you're experience on the web is the best it can be.  Everybody has a story.  What's behind that voice you hear on the phone?  Get to know what makes the staff of HostMySite tick with our Staff Spotlights! Today, we're talking to Corey Johnson – a computer prodigy!
 Name and Job Title:
Corey Johnson  /  Technical Support Analyst
How long have you been with HostMySite?
3 ½ years  (June 2010 start date)
What do you do for us here at HostMySite? What's your day to day look like?
I work on escalated and priority issues for our customers and for our internal systems. I'm also involved with training our new hires and assisting/teaching our technicians new and useful information to help build our team knowledge and efficiency when working on issues. A normal day for me would include coming in and working on the priority tickets in the morning, then after lunch walking around and helping anyone and everyone.
What's your background? Did you go to school for Computer Science or a similar field?
I went to a Technology school while attending High School for Information Technology and then enrolled in Delaware Tech for Network Engineering.
How did you gain your technological knowledge?   
I have been taking apart computers since I was 10 and would regularly learn new scripting languages over the Summer while my parents and siblings were at work.
What's your area of expertise? Is there a certain subject you like helping customers with the most? 
I really enjoy helping on any subject matter, but am partial to Database issues and anything having to deal with our new VPS and Dedicated solutions.
What are your hobbies outside of work?  :  
I enjoy playing video games (PC), spending time with my family, arts and crafts, watching and playing sports (football and softball), and staying active.
What is your most prized possession? :
My dog, Baxter, and my computer.
Give us a few interesting/random facts about you. :
I have an older twin brother & sister.  I can knit and crochet. I love to bake. I played softball competitively on 3 different leagues for 12 years.
What's your favorite thing about working at HostMySite? :  
I really enjoy the ability to help our customers on a daily basis. It allows me to learn new things constantly. I also really enjoy our staff here at HostMySite. I think we have a great group of people who really care and are focused on helping our customers succeed.