HostMySite Now Offers Easy-to-Use Cloud-Based eCommerce Solutions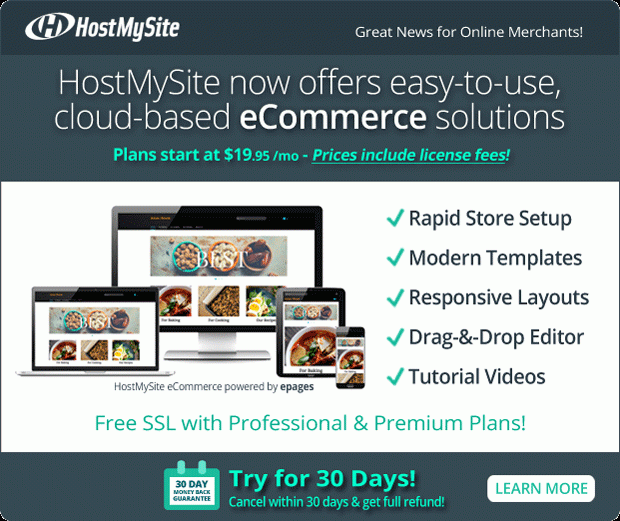 Here's a copy of a recent email we sent to HostMySite Customers.
Learn more about HostMySite's eCommerce Offering Now!
Setting Up Your Own Branded Online Store Has Never Been Easier.
No Software Experience Needed!
-
HostMySite now offers an easy-to-use,
cloud-based eCommerce solution powered by ePages
Plans start at $19.95 /mo - Prices include license fees! 
eCommerce that works beautifully.
We do the technology, you run your business.
Rapid Store Setup!
Modern Design Templates 
Responsive Layouts
Sell on eBay and Amazon
Drag-&-Drop Editor
Super-Friendly User Interface
 Payments & Ship Methods Included
 Guided Tours & How-To Videos
Because your online shop lives in the cloud you don't have to worry about technical concerns like performance, upgrades, or backups, and you can manage your store from any location!
Try for 30 Days!
Take time to decide. If not satisfied,
cancel within 30 days and get a full refund!
Why eCommerce from HostMySite and ePages?
In order to provide the latest eCommerce technology offerings for our customers, HostMySite has partnered with ePages, a world leader of online shop software in the cloud. Since 1993, more than 140,000 online shop merchants have trusted ePages online store software solutions. Focusing on small to midsize business, ePages offers cloud-based, high-performance, "non-techie" solutions that we can pass on to budding merchants who want to quickly start selling products online without having to be technical.
Customers with aging eCommerce shop software will find moving to ePages will yield great benefits from maintenance-free software, to modern designs, responsive layouts that work on any device, and much-friendlier product management.
After significant research of eCommerce software providers, HostMySite found ePages solutions are the best performing, most modern, and easy-to-use,   Our partners at ePages are passionate about providing uncomplicated solutions that are designed to help you succeed as an online merchant.
Need advice?
Call HostMySite 24/7, toll-free at
1-877-215-4678
All HostMySite Support Staff are trained to help you with all of your eCommerce questions. Whether you are new to eCommerce or looking to upgrade your existing online shop software, contact HostMySite for prompt, knowledgable, and personalized advice!