— Shared Web Hosting Customers —
Don't Be This Person

Have a Backup Plan!
Are Your Website Files Backed Up?
As a web hosting service, we have seen the following happen more than a few times: A website's owner discovers only too late that they do not have a full backup copy of their website! The shocking realization typically occurs after a website gets hacked, website files are deleted by human error, or the website's developer has moved on.
In the same way you insure your home or automobile, we strongly recommend HostMySite Customers enable backups to insure their website.
For a modest monthly fee (prices below), HostMySite customers can select a backup plan that provides 14 days of continuously rolling backups. That means on the day you need to do a website restore, you can select a date as far back as two weeks before. The backup process includes all website files—and any associated database! If you use CMS (Content Management System) software like WordPress or Joomla, your website files and database will be backed up!
To enable your website backups, select a storage amount through your
"Site Backup" tab in your control panel and activate!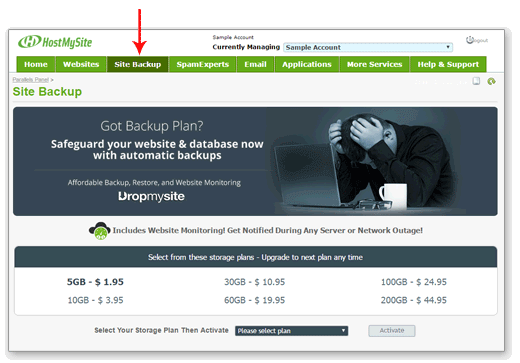 Here are our monthly backup storage offerings:
5 GB – $1.95  | 10 GB – $3.95
30 GB – $10.95   |   60 GB – $19.95
100 GB – $24.95 |   200 GB – $44.95
Backup plans also include website monitoring services!
You may set up monitors to analyze performance of your websites and notify you via email and/or SMS in the event of an issue. You can also monitor your site against Google's Safe Browsing blacklists and receive notifications against potential compromises.
Need more information or advice?
Please visit HostMySite's Website Backup Information Page.
You'll be able to review all the features, link to your control panel, and
even Chat Onlne any time of day with one of HostMySite's Support Techs.