Who's That HostMySite Tech? Katie Hinds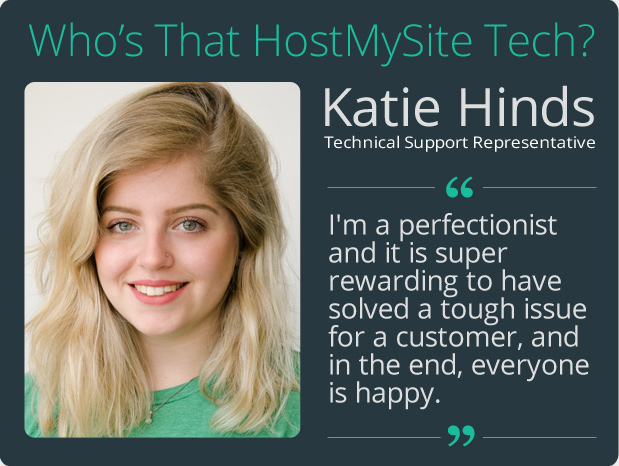 Who's That HostMySite Tech: Katie Hinds
At HostMySite, we have incredibly-talented people that work around the clock to make sure your web hosting experience is the best it can be. When you contact us for assistance, have you ever wonder who is behind that voice on the phone?  Get to know more about our staff in this issue of "Who's That HostMySite Tech? Katie Hinds." She even has a special Discount Promotion Code for you!
Job Title:
Technical Support Representative
How long have you been with HostMySite?
I have been with HostMySite 2 years in November.
What do you do at HostMySite? What does your day to day look like?
I work in our technical support call center and answer phone calls. I help resolve problems or explain how to manage settings within the customer control panel. Questions can range from something as simple as resetting an email password to troubleshooting a website outage.
What is your background?
I worked in customer service for three years before HostMySite, I love helping people!
How did you gain your technological knowledge?
I learned just about everything I know here at HostMySite. There are a lot of experienced technicians to learn from, as well as great internal training that all techs must attend on a regular basis.
What's your area of expertise? Is there a certain subject you like helping customers with the most?
I wouldn't really say that I have one area of expertise. I try to be versatile because there are many different things a technician can deal with from day to day. However, I like to think that I'm really good when it comes to helping people with email.
What do you like to do outside of work?
Outside of work I like hang out with my friends and relax.
Give us a an interesting fact about you.
I really like cats!
What's your favorite thing about working at HostMySite?
My favorite thing about working at HostMySite is coming into work every day and being a part of a community of technical support people.
What do you get out of providing support?
Well I really love to help people and solve puzzles. It's very rewarding when I have been able to figure out a problem with a website and get it fixed; then the customer is so grateful!
What advice you would like to share with customers?
I would say the top of the list is to make sure you have copies of your website's files. If you've had a developer create your website, ask them for a backup copy. We also have an inexpensive website backup option for our shared hosting customers that I strongly recommend.
Katie, what's your Special Offer for customers and Promo Code!
HostMySite Customers can get 30% Off for Life on any new Hosting Plan when they enter my PromoCode: katie-hms (all lowercase) during checkout! If there is another promotion code displaying in your order just select the OK button and you will be able to enter my promotion code!