Carvertise – Week 4 Light Up The Cloud Winner!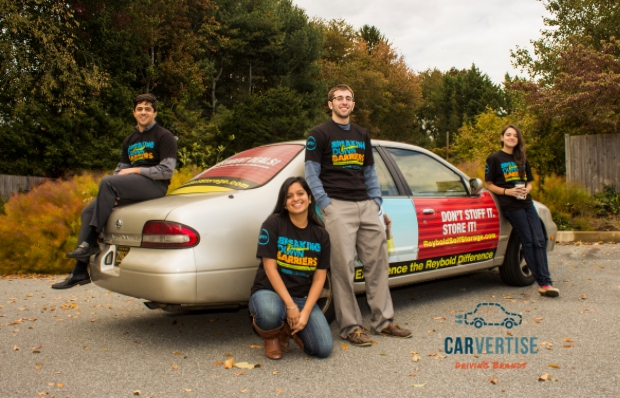 At HostMySite, we know that innovation is key.  Finding new ways to solve an old problem is what makes the world go-round, and we think Carvertise has done just that.  Carvertise has found new ways for business to advertise in the Delaware area to exactly the customers they need, all while collecting valuable data.  Find out more about them here and follow them on Facebook.
"Carvertise is a completely new approach to the outdoor advertising arena. We connect brands with high-exposure car drivers that commute in the brand's target market. Selected car drivers get paid $100 a month to drive around with an ad on their car, and our brand clientele benefit from this extra exposure. For our clientele, we: find the right fleet of car drivers, wrap their cars, and track and monitor their driving behavior through the GPS we attach to every vehicle. Carvertise & The Cloud: Given the features of HostMySite's cloud hosting, here are some ways we will put the $10,000 to use: 1. Our business is collecting enormous amounts of GPS data with each new car we put on the road. Through a local tracking-site, we are able to access this information but not in the clearest fashion we would like. Every month, we provide our clients with a report of the drivers' driving habits, and HostMySite's server space would be ideal in storing all of this data. 2. As noted earlier, we are young entrepreneurs who are experiencing the growing pains of a start-up business. Learning how to properly store and manage our data has been a process, and questions are inevitably going to arise. Therefore, rather then long wait times one would usually run into, we could benefit greatly from HostMySite's human customer service. With the comfort of knowing that they are located right down the street from us, technology would not be an issue; this would free up a lot of our scheduled work-time. 3. We currently own and manage dozens of domain names. Using HostMySite's simple and user-friendly control panel, we could manage all of our domains from a singe login. 4. To create the driver tracking reports we provide back to our clients, we gather information from several different software providers. Whether it's GPS data, impression-based data, or demographic data, we would vastly benefit from the HostMySite's control panel to access this information all at once. As an advertising start-up in Delaware, the Cloud Hosting platform would be ideal for Carvertise. "
Want to get $10,000 in FREE cloud hosting to get your big idea off the ground?  Enter Now!